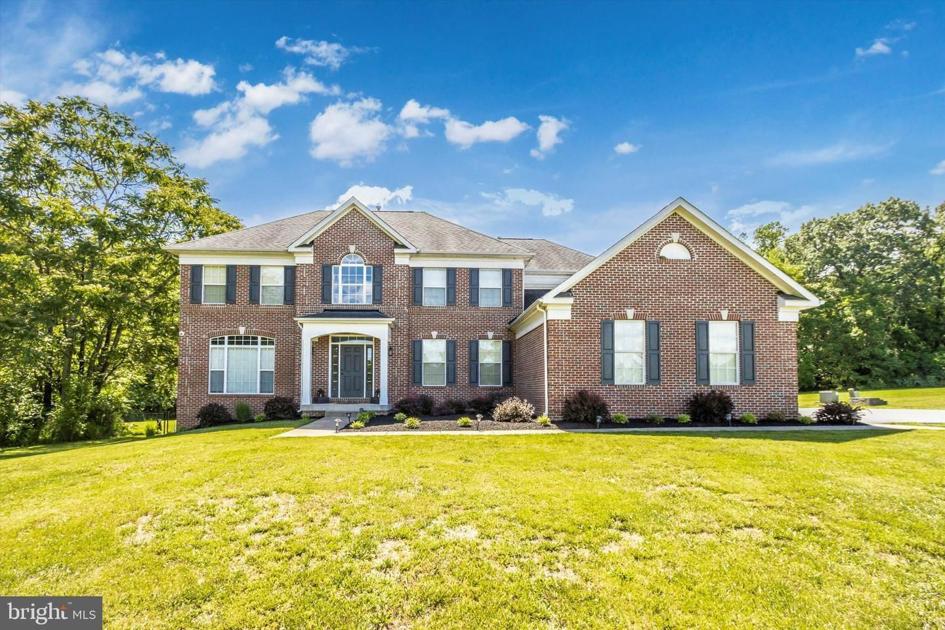 Orndorff Road brick colonial closes at $949,000 | Real Estate And Development
The brick front colonial home at 8717 Orndorff Road, Thurmont, is last week's top house. It listed for and closed at $949,000. Built in 2006 on 5-plus acres, it has five bedrooms, five bathrooms, a two-story entry foyer, formal dining room with a butlers pantry, a family room with a gas fireplace, a private office, and a kitchen with a center island, breakfast nook and access to the rear outside entertaining area. Exterior features include an in-ground pool with spa, a custom tiki bar and built-in grill area, and two garages — an attached two-car garage and a detached three-car garage.
The following is a list of all other homes sold in Frederick County in the past week through agents and brokers, as reported through the Bright MLS database. It does not include homes sold without an agent. The list is provided by Dan Plombon of Mackintosh Inc., Realtors. All prices are closing prices.
THE REST OF THE TOP 5:
11635 Easterday Road, Myersville, $865,000
3723 Big Woods Road, Ijamsville, $840,000
5701 Etzler Road, Frederick, $835,000
4709 Morning Mews, Monrovia, $750,000
ADAMSTOWN
5526 Adamstown Commons Drive, $705,000
5874 Union Ridge Drive, $632,000
5603 Haddington Drive, $600,000
BRUNSWICK
405 Potomac View Parkway, $570,000
EMMITSBURG
1220 Brookfield Drive, $400,000
33 Robindale Drive, $240,000
FREDERICK
1818 Granby Way, $670,000
1412 Ricketts Road, $661,500
6336 Claridge Drive North, $614,000
5756 Guilford Garden Terrace, $610,000
825 Lindley Road, #189, $606,640
226 Carroll Parkway, $600,000
111 Maroon Court, $565,000
117 W. Third St. $555,000
1940 Timber Grove Road, $535,000
819 Lindley Road, $522,275
1104 Furgeson Lane, $485,196
2205 W. Greenleaf Drive, $485,000
6986 Executive Way, $464,945
5801 Meadow Drive, $460,000
8812 Indian Springs Road, $450,000
1102 Furgeson Lane, $449,565
507 Partridge Way, $441,000
17 E. Third St., $440,000
6532 Britannic Place, $438,000
6533 Britannic Place, $436,000
4731 Cambria Road, $435,000
10189 Winston Drive, $435,000
4833 Eugene Way, $425,000
7917 Edgewood Farm Road, $424,900
2410 Rippling Brook Road, $410,000
100 Mill Pond Road, $400,000
1939 Crossing Stone Court, $390,000
7813 Wormans Mill Road, $385,000
5923 Krantz Drive, $380,365
2612 Cameron Way, $373,000
6211 Newport Place, $365,000
5808 Mercantile Drive West, $359,000
1501 Laurel Wood Way, $354,000
5415 Upper Mill Terrace South, $349,900
5652 Crabapple Drive, $345,000
2025 Spring Run Circle, $340,000
2089 Buell Drive, $340,000
7145 Ladd Circle, $340,000
1217 Dahlia Lane, $333,000
9414 Berkley Lane, $325,000
5013 Whispering Pines Lane, $325,000
8923 Baltimore Road, $320,000
6303 Edgeware Court, $312,500
117 Leather Fern Way, $310,000
115 Featherstone Place, $304,000
428 Carrollton Drive, $301,000
6103 Pine Crest Lane, $300,000
121 Heathfield Drive, $295,000
7174 Glenmeadow Court, $291,200
2029 Rosecrans Court, $290,000
1815-A Wheyfield Drive, #9-A, $262,500
6743 Brace Court, $260,000
125 Lauren Court, $243,000
502 Bradley Court, #5F, $217,000
2502 Driftwood Court, #3B, $215,000
8206 Blue Heron Drive, #3D, $209,000
1722 Worthington Court, $190,000
JEFFERSON
2610 Jefferson Pike, $490,000
1820 Gapland Road, $476,000
4110 Spring View Drive, $475,000
3855 Shadywood Drive, #1A, $183,000
840-D Heather Ridge Drive, #23D, $125,000
LIBERTYTOWN
11920 Liberty, #203A, $144,900
MIDDLETOWN
9013 Hawbottom Road, $710,000
6998 Alabaster Court, $340,000
524 W. Main St., $285,000
MONROVIA
4750 Black Eyed Susan Mews, $518,000
MOUNT AIRY
5038 Sidney Road, $725,000
605 Twilight Terrace Court, $668,000
12510 Bills Court, $665,000
12351 Sherwood Forest Drive, $579,000
MYERSVILLE
NEW MARKET
11314 Country Club Road, $674,000
6908 Cardozo St., $638,000
6616 Edgewood Road, $547,558
10905 Divot Court, $480,000
10202 Wood Thrush Drive, $450,000
10305 Horn Court, $442,500
6412 Lakeridge Drive, $442,000
5706 Joseph Court, $326,200
THURMONT
7947 Apples Church Road, $405,000
13608 Winesap Circle, $351,000
UNION BRIDGE
12112 Coppermine Road, $611,000
URBANA
3203 Ivy Meadow Drive, $730,643
9290 Blue Sage Court, $715,725
3965 Triton St., $685,000
3478 Urbana Pike, $535,000
3970 Addison Woods Road, $502,000
3662 Tavistock Road, $500,000
8826 Lew Wallace Road, $477,000
3243 Thornapple Drive, $470,135
3964 Addison Woods Road, $430,000
WALKERSVILLE
202 Tylerton Court, $525,000
8788 Inspiration Court, $415,000
243 Winter Brook Drive, $390,000
112 Bracken Court, $265,000
WOODSBORO